Grow your faith with our digital resources!
WANT 15% OFF YOUR FIRST PURCHASE?
Sign up for email updates on the latest product news PLUS get acess to the FREE faith-resource library!
Welcome to Shop Faithfully Planted!
The Faithfully Planted Shop offers a line of faith-based and truth filled products for the Christian woman who wants to remind herself of God's goodness & share the Gospel with the world. 
Our products feature beautiful, simple designs on high quality products. 10% of each purchase is donated to ministries  that focus on expanding the reach of the Gospel through going into unreached nations, working to end human trafficking and supporting foster care & adoption efforts.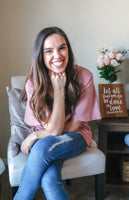 Meet Your Shop Owner + Creator
My name is Ashley Nicole Harris. I'm a Christian blogger + writer, entrepreneur and the wife to a future Army Chaplain.
I am so glad you are here!
I am 28-years young, a coffee-addict, an extroverted introvert and a 7 on the Enneagram.
I'm an Indiana girl who loves Jesus, summer nights, coffee dates with my husband, comfy sweatshirts and the feeling of finishing a good book.
I started my blog + shop as a way to encourage other women and support causes I'm passionate about.
Ready to get growing in your faith & look cute doing it? You're in the right place!
Happy Shopping, friend!
-Ashley
SHOP NOW!